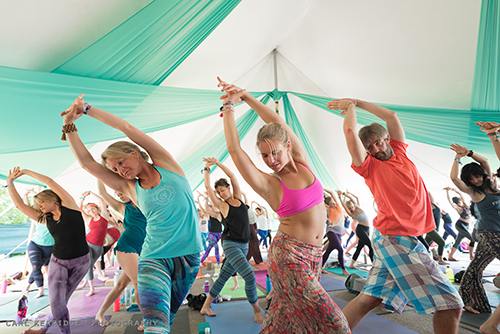 11 Mar

How to stay grounded and present throughout the festival experience 
By Jessie Lucier
With so many great teachers and classes to choose from, the physical strain that hours of asana can create on the body and the excitement of festival energy, it's easy to get swept away mentally, emotionally and even spiritually into the experience. Even for the most dedicated, mindful yogi, it can often be difficult to process what comes up internally when it's competing with so much external stimulation. The good news is that there are ways—even within the movement, music and collective mantra of the festival—to make your event a mindful one.
Mindfulness coach and psychologist Samara Seroktin, Psy.D offers a few tips on how you can get the most out of your festival experience. These easy to apply tips can help you ground into present moment, tend to your internal landscape and stay in sync with your breath.
Kick off your festival with intention
Before arriving at the festival, ask yourself what it is that you intend to get out of it. Why did you register for this particular festival in this particular place at this particular time? Think back to what came up as your primary motivation when you made your decision to attend. Maybe you're seeking insight through hours of asana as you work through a specific challenge or issue. Perhaps you want to network or meet new people. It could be that you were drawn to the festival to practice with a particular teacher or to take the physical aspect of your practice to a new level. Maybe you simply want to let loose and have fun. Whatever your intention is, sit with it and make a commitment to remind yourself of it throughout the festival. This can be especially helpful if you find yourself getting caught up in someone else's energy or an aspect of the festival experience that isn't supporting your goals. Also notice if your intention changes as you move through classes or into a new day.
Give yourself permission to take time out and integrate
A lot can come up—mentally, emotionally, physically and spiritually—when we engage in multiple hours of yoga in a day. If you're feeling overwhelmed, thoughtful, tranquil or experiencing another significant emotion, give yourself permission to find a quiet space and feel into your body. Maybe you take time to mediate, journal or simply sit and allow the richness of your experience to seep in. Finding stillness can be especially valuable following a particularly intense, heavy or lush class. Close your eyes and take a deep breath. Reflect on a few especially meaningful aspects of the practice. As you reflect, further integrate your experience by jotting down what comes up for you in a journal. You don't need to capture everything that you learned or felt—just what really created meaning for you. Recognize that you're getting far more than an education; you're having an experience.
Engage in mindful self-care
While you may want to take in every class and experience all you can in the few precious days you've given yourself to yoga, recognize that you are human. It's impossible to do everything, and a truly great experience is usually composed of quality and not quantity. Create your schedule thoughtfully, and schedule time between classes to engage in self-reflection. Also, if something comes up that you need to process or your body begins feeling taxed, give yourself permission to skip a class. Remember that yoga is about depth as well as breath, and it's important to attune to your personal limits. Check in with yourself throughout the day by doing mental, emotional and physical scans.
And, while it probably goes without saying, dear yogi, take good care of your body. Snack throughout the day, drink plenty of water and ensure that you get proper rest. If you're struggling with a new teacher's style, a challenging pose or a difficult emotion arises, always remember to come back to your breath. If you have a meditation practice, engage in it at any time it's needed during the day. It can also be helpful to meditate before heading to sleep to clear out the mental clutter created throughout the day. Use a guided track if it helps to relax or guide you after a long day. As you finish your meditation, take three deep breaths and ask yourself these three questions:
What feelings were evoked in me today?
Where can I apply this new knowledge?
Can anyone in my life benefit from me sharing it?
Close with consciousness
As the festival comes to a close, take a meta view of your festival experience. Revisit your intention. Did you stay with your original intention or did it shift or grow throughout the weekend? What are three experiences that you hope to remember? What are three things you learned that you now intend to put into practice on your mat or in your life? How can you apply, share or grow new knowledge? Jot down a quote, your original festival intention or a new one and put it somewhere you'll see it. Remind yourself that the festival doesn't have to end with the close of festival. You can choose to integrate what you learned and felt and carry it forward into the next present moment—mindfully.