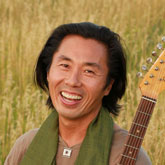 Yoshi Aono
Yoshi Aono is a heart-centered visionary, community-builder, musician, humanitarian and executive.
Based in Boulder, Colorado, USA, he is the founder of the Hanuman Community: (Festival, Academy, and Adventures) He has also served as CEO for the SunWellness companies and is a 40-year student of the guitar.
His mission is to bring high-level presence and consciousness into global entrepreneurship and community. Yoshi's lifelong passion for music and community has involved him in projects throughout the planet.
Yoshi's humanitarian work spans over a decade and has led him to Africa, Haiti, Cambodia, Thailand, Peru, India, Bali and Louisiana. He has coordinated and led tent city aid distribution projects along with leading teams into disaster zones.