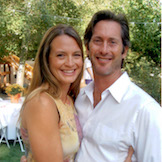 Scott and Marsha Rodwin
Scott Rodwin, RYT-200 and Marsha Austin-Rodwin, EYT-500, are long-time Boulder residents and the owners of Radiance Power Yoga. They love to take their new daughter Lexi out on hikes in the foothills and to let her guide them into childlike curiosity of the trees, streams, rocks, dirt, animals and sky.
Marsha is a senior instructor of Baptiste Power Vinyasa and has assisted Baron Baptiste at conferences and teacher trainings. She recently launched her own online training www.theyogilife.com Marsha's personal journey, ranging from spiritual self-discovery to conscious business management to natural health and healing, infuses her work and practice with a profound sense of purpose. Scott has been practicing yoga for 30 years and includes a diverse background in several styles of yoga. He studied with Baron Baptiste, Seane Corn, Shiva Rea, Jeanie Manchester and Shannon Paige. Scott also integrates 30 years of professional dance, martial arts and therapeutic massage into his teaching.