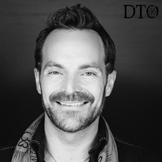 DTO
DTO is an award-winning music producer that kicked off his career by remixing a song produced by Grammy-nominated producer, StoneBridge. DTO followed up with Nameless Energy, a yoga soundtrack recognized by Deepak Chopra. DTO has produced a trilogy of albums following the 7 chakras, the 5 koshas, and other yogic themes. These songs have become soundtracks for yoga, dance, meditation, and movement on many playlists in over 80 countries.
DTO is classically trained on the piano and holds a Master's Degree in Educational Technology. This is the key to what empowers his musical expressions; integrating both acoustic + electronic sounds in addition to Eastern + Western instruments. DTO loves to produce, perform, and teach music internationally at music and yoga festivals.
Follow and share on your favorite music streaming platform: DTO Music.
Photo credit: Aaron Dressin.