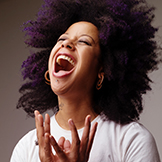 Bibi McGill
The gifts of a yogic practice fortified Bibi McGill's courage, stamina and devotion as internationally renowned lead guitarist and band leader for Beyonce. She has found great sustenance and healing in yoga, and her joy in teaching is making yoga accessible to anyone who seeks it. Her down-to-earth, vibrant nature empowers students to claim their own authentic gifts, as they deepen their relationship with themselves on the mat.
Bibi leads classes and workshops around the globe and in her hometown, Portland, Oregon. She inspires groups, large and small, at studios, schools, festivals, city parks, and even the White House lawn. Through her work with organizations like Street Yoga, Peace in Schools, Wolf Connection and her artist residency with Open Middle School, Bibi spreads the message of healing and wellness to youth. She ofers adept sensitivity to support populations who have undergone trauma.
A rocker on a mission to help the world vibrate higher, Bibi has graced the covers of Yoga Journal, About Face, Edge Magazine and Om Times. When she's not on the mat or stage, Bibi is often connecting with nature in her garden, on a kayak or in the forest with a cup of tea.