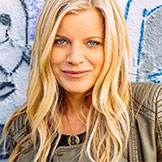 Ashley Turner
Ashley Turner is a beloved yoga-meditation instructor, licensed psychotherapist, and writer.
She is the founder of Yoga Psychology an innovative training program for teachers and dedicated students fusing yoga, depth psychology, mindfulness, and neuroscience. She is the co-founder of
Ashley has graced such lists as MindBodyGreen's '100 Women in Wellness to Watch', Sonima's '100 Most Influential Yoga Teachers in the US' and DETAILS magazine 'Top 6 Trainers'.
Known for her charisma, depth, and accessibility, Ashley is a sought-after speaker, facilitator, and presenter. She works with therapy and coaching clients worldwide via Skype and leads transformative events to power points around the globe. Ashley lives by the ocean in Marina del Rey, CA. www.AshleyTurner.co