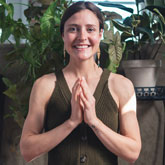 Caitlin Rose Kenney

Caitlin Rose Kenney is a Colorado, USA, based Yoga teacher and has been teaching since 2011, specializing in Yin Yoga and regenerating practices. Her offerings support the balance of yin (receiving) and yang (generating).

Her teachings aim to explore and nourish the whole being through balanced and regenerative practices. She often speaks about physical practice as an access point for widespread change in mental patterns, emotional states, and reconnection to soul and spirit. She is known for holding space with a calm confidence that allows practitioners to move safely, feel their experience, revitalize and heal.

Caitlin Rose is a folklore beekeeper and home gardener. Her teachings are infused with ecological conversations, the dance between yin and yang, and nature's seasonal wisdom.

In 2022, she founded the Threshold Collective, dedicated to supporting humankind through life transitions by replenishing soil and soul. Threshold Collective events are held on regenerative farms to foster reciprocity and symbiosis between humans, animals, plants, fungi and all of the elements that form landscapes.

Yoga is a living practice that changes as I learn, respond and accumulate life experience. My studies began with Indian Hatha Yoga and many other influences followed in the forms of acupuncturists, poets and regenerative farmers. With my multi-layered approach it feels important to teach in environments that evoke our interconnectedness, not only to each other, but to nature. —Caitlin Rose