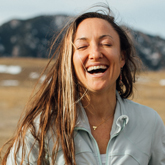 Tünde Borrego
Tünde (pronounced "toon-da"), is Hungarian by blood and a Boulder native. She immediately fell in love with Yoga after her first class in 2002.
Tunde took the first teacher training in Boulder in 2005 and has been teaching ever since. Tunde's classes are renowned for their fun vibes and infectious energy. Tunde will often infuse her passion for handstands into the practice, making it accessible to a practitioner at any level. For over 15 years, Tunde has been teaching public classes, leading workshops, international retreats and facilitating teacher training programs. In addition to her teaching and management experience at CorePower, Tunde is passionate about sharing the benefits of yoga with those in need. She has worked with young children, volunteers regularly at The Boulder County Jail and teaches yoga to individuals in drug rehabilitation out-patient programs. With over 1900 hours of community service under her belt through AmeriCorps, Tunde's yoga practice expands far beyond the mat.
You can find Tunde daily hiking mount Sanitas, and is a self proclaimed "SanitasJunki". Join her on her most favorite local hike in Boulder. Bring your water bottle and a wish to make at the "wishing/prayer" tree.