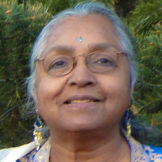 Sreedevi Bringi
Sreedevi Bringi, M.Sc., M.S., M.A., has recently retired as core Faculty in Yoga Studies and Hinduism at Naropa University in Boulder, Colorado. She wrote a chapter about Indian spiritual teacher Amma and paths of yoga in the newly published anthology textbook, "Beacons of Dharma".
Sreedevi currently offers presentations/workshops and online teachings on yoga nidra meditation, Bhagavad Gita, sacred Sanskrit, yoga philosophy, and deity yoga/mantra yoga/Puja. She has taught online for Yoga Alliance online workshops, Hanuman Academy's 'Five elements of Yoga' online course and presented classes at Hanuman, Moksha and Grand Valley Yoga Festivals. See ShaktiInstitute.com
Sreedevi is a native of Mysore-Bangalore, where she received formal training in yoga, meditation, Sanskrit, and Hindu traditions from family elders, Bihar School of Yoga and Swami Vivekananda Kendra. With graduate degrees in chemistry, atmospheric sciences, and environmental education, she has prior teaching careers in Chemistry and Science Education at the high school, community college and university level in Fort Collins, Colorado.