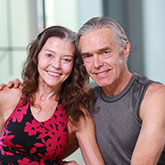 Richard Freeman and Mary Taylor
Richard Freeman has been a student of yoga since 1968. He spent nine years in Asia studying yoga āsana, prāṇāyāma, Sufism, Sanskrit language, and Indian philosophy. He has studied asana with B.K.S. Iyengar and K. Pattabhi Jois and has worked with numerous Buddhist teachers to draw insights into the interfacing of Buddhism and yoga as a reflection of life. Richard's metaphorical, humorous, teaching style appeals to students of many backgrounds and nationalities.
Mary Taylor began studying yoga in 1971 and her studies have grown into a deep interest into how yoga āsana, meditation and the interfacing of yoga with Buddhism combine to support us through complex times. Her main āsana practice is in the internal forms of the aṣṭāñga vinyāsa tradition. She is part of the core faculty of the Being with Dying program at Upaya Zen Center and the UZIT training program, both of which apply contemplative practices to improved and sustainable wellness within medical settings.
Together they teach workshops and trainings online and throughout the world. Richard's instructional videos and CD's on yoga set the gold standard for approaching yoga as a contemplative art. They've authored and co-authored numerous books, most recently, When Love Comes to Light, Ancient Wisdom from the Bhagavad Gīta for Modern Life, (Shambhala Publications, 2021).