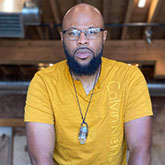 Monticue Connally
Monticue Connally is a Colorado Herbalist, Shaman and Artifact Medium who resonates with the sounds of African Drums, Rhythmic Chanting and Afro-Caribbean Folklore. Herbal Men's Health, The Art of Tree Talking, Blessing with Herbs, Herbal Tarot and many other esoteric/ nature related topics are classes that you can find Monticue offering either on his Patreon account or workshops around town. He's led various workshops and herb walks at places like Ruby Hill Tiny Farm and the lovely Woodbine Ecology Center.
He taught for the Denver Botanic Gardens Herbal Certification Program and is also co-owner of Jiridon Apothecary, a business specializing in loose leaf herbal tea remedies. He now teachers for the Colorado School of Clinical Herbalism and sees patients for both physical and spiritually related illnesses out of his home in Englewood Colorado.
He's a drummer for the annual Kwanzaa celebrations where he is often asked to speak to the children or rap songs to them about the many wonders of plant medicines. He has made himself available to come to the homes of Colorado residents with his holy prayers and plants to get rid of negative energy or spiritual entities that are hurtful and ill intentioned.
Herbs, Medical Astrology, African Spirituality, Shamanism, singing and alternative healing methods have been a lifelong interest for the Denver native who plans to continue to use workshops and music to teach people in urban areas how to access the earthly medicines growing around them. He received the Preventative Care Leadership Award from the Be Well Health Initiative in 2019 for being of service to diverse black and brown communities, pushing them towards the accessible and immediate plant medicines growing all around them.
Instagram: @monticue_the_herbalist
Facebook: Monticue Connally
Patreon: Patreon.com/arootawakening
TikTok: A_Root_Aw8kening