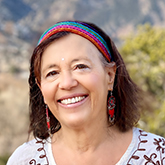 Kat Tudor
Kat Tudor is the visionary behind SunWater Spa, SunMountain Center, and the Smokebush Foundation for the Arts in Manitou Springs. Her gift is bringing the arts and the healing arts together in inspiring classes, unexpected collaborations, and community projects.
She has been teaching art, dance and yoga since 1979 in Colorado and around the world. In collaboration with her teacher Miguel Angel Vergera, they will share Halach Uinik Yoga – Transmutation, Transformation, Realization – which comes from the teachings, glyphs, and secret practices of the Mayan. She is grateful to all of her teachers: Saul David Raye for his awakening of Thai and Tantra teachings within her soul; Celina Kaelin for teaching her Native history and Miguel Angel for his teachings in bringing in the light.
Learn more about Kat and her teachings, art and community at SunWater Spa.