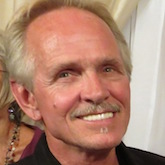 Hanuman das
Hanuman das John Kane first met Sri Neem Karoli Baba, (affectionately known as Maharaj-ji) in 1968 through a small photo and has devoted his life in service to Him ever since. During the past 48 years, Hanuman das has helped establish and maintain the NKB Ashram and Hanuman Temple in Taos, Baba's only ashram and Hanuman temple in the United States.
Hanuman das was instrumental in ensuring Hanuman's home in Taos. Commissioned by Ram Dass in 1977 and brought to America in 1978, Hanuman das served as Taos Hanuman-ji's first pujari, establishing the protocols needed to ensure that Hanuman is cared for in a manner that follows Hindu traditions while remaining accessible to westerners and all others that come. Hanuman das has also provided leadership in establishing the daily rituals that are performed at the ashram, in devotion to both Hanuman and Maharaj-ji.
Hanuman das has served at the ashram for many years, as the General Manager; as Caretaker; and on the ashram's Board of Directors, as a board member, as co-chair and most currently, as Vice president alongside Ram Dass. Adhering to Maharaj-ji's teaching to love and serve all, Hanuman das has been influential in ensuring that the ashram maintain a culture of inclusion and is open to all, and that all who come are treated as Maharaj-ji's guests. Currently, Hanuman das is providing leadership, coordination and oversight in the construction of the ashram's new Hanuman temple, and is in charge of raising the funds needed for the project.
In the early 1970's, Hanuman das participated in a two-year Kriya Yoga course that included, hatha yoga teacher training, Vedic study and rituals, Patanjali's Yoga Sutras, and calculating of Astrological charts and their reading.
He spends his life trying to live his life as Hanuman does, in service to God, or Lord Ram: As Hanuman said to Ram " When I don't know who I am, I serve you. When I know who I am, I am you." Hanuman das spends his life following Sri Neem Karoli Baba's teachings: "Love Everyone, Serve Everyone, Tell the Truth, and Remember God."