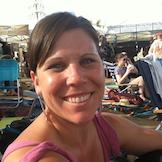 Lisa Theis
Lisa's love affair with the practice of yoga began some 15 years ago in a Bikram studio in San
Francisco. What began as a physical and mental challenge to just stay in the room for the
duration of class, quickly became a deep and healing connection for her body, mind, and spirit, and eventually became a life's passion and calling.
Though Bikram may have been her entrance into the world of yoga, from there she continued to explore and refine her practice, experiencing as many teachers and styles she could: from Power Vinyasa to Forrest to Anusara to Jivamukti and seemingly everything in between. And, after years of searching for a style of yoga to focus her energy, in 2011 she found Yogarupa Rod Stryker and Para Yoga.
She is now on track to become a Para Yoga certified instructor and studies mainly under
Yogarupa. The lineage of Para Yoga and Sri Vidya has helped Lisa develop and embody a deep understanding of and reverence for the true power a focused and dedicated yoga practice can bring. There has been no bigger transformation in her life than the one that came from the Para Yoga system and it's methods.
Her classes strive to provide a space for each person to explore the effect of yoga in their own way and are rooted in the methodologies of Para Yoga. Each class will include pranayama (breathwork), the exploration and experience of the energetics of asana (postures), mantra, visualization and intentional focus, and meditation. Check out her regular class schedule, and all things Lisa at: www.thirdeyeyoga.org.
Yoga, and life, is an evolutionary process. We humans are always growing and changing,
discovering and understanding. The more we can reflect upon our growth and change, the more we can discover and understand who we truly are and rejoice in it. Hari Om!